A post by Pat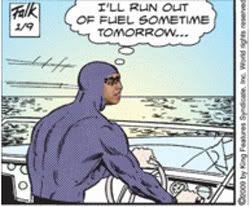 Skull Cave was The Phantom's base
Unlike many fictional costumed heroes, the Phantom does not have supernatural powers of any kind, but relies on his strength, intellect and reputation of being an immortal ghost to defeat his opponents. He is protected at home in large part by the Bandar pygmies, or "Poison-People", whose fearsome reputation is enough to keep the uninvited out of his jungle.
PC disclaimer:
The cartoon character The Phantom just popped into my head when I read the following article. PC conditioning immediately kicked in cautioning me not to connect Obama to The Phantom. Even though The Phantom is an heroic figure, he lived in a jungle. In Africa. That's problematic nowadays. The PC police go ballistic over innocent references to things like fictional settings for cartoon characters or, well, just about anything that can be construed as a racial slur. Actually, it was the conditioned thought reflex that made me remember for a minute that Obama is black. I'll borrow Chris Matthew's excuse. It's a good thing I had the thought because it shows how Obama has transcended race. Besides, I loved reading The Phantom in the Sunday comics when I was a kid.
Obama's 2011 budget will include phantom cap-and-trade revenue
A trade publication is reporting this afternoon that President Obama's 2011 federal budget proposal will assume receipt of billions of dollars in revenue generated from the cap-and-trade program even though that proposal appears now to be all but dead in Congress.

"The White House told Sen. John Kerry's office that the president plans to assume revenue from the controversial climate policy approach. Kerry aides said they had assurances the revenue won't be designated for issues unrelated to energy policy and combating climate change
The House bill projects cap-and-trade revenues of $873 billion.

Whether it's the $650 billion projected by the Senate bill or the $873 billion of the House bill, it appears highly unlikely, to put it charitably, that either measure will make it to Obama's desk with the cap-and-trade program intact. That means Obama will be counting phantom revenue as part of his next federal budget proposal.

But then Obama's $787 billion economic stimulus program has produced two million phantom jobs located in phantom zip codes in phantom congressional districts, so perhaps nobody should be surprised to see phantom revenues in a White House budget proposal.
Phantom revenue, phantom jobs, phantom promises, phantom greatness.
…anyone who sees the Phantom's true face without his mask will certainly "die a terrible death".
Maybe in a comic book world or Chicago. For America, unmasking this President and defeating his pygmies in Congress is the way to save ourselves and our country.